Skip Navigation
Website Accessibility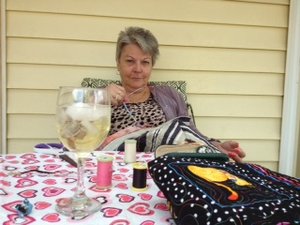 Pam Keenan
Pam Keenan was born in Omaha, Nebraska graduated from Harry A. Burke high school and was married in 1970. She has two boys Todd and Trent and a husband Tom.
They lived in Omaha and raised their two boys until 1981 and move to Ashland, Nebraska. The winters are cold and windy with lots of snow and during a blizzard the winter of 1985 the Keenan's had enough and the decision was made to move west.
In the spring of 1986 Pam found a job in Las Vegas, Nevada. Pam left the boys and Tom and moved to the desert heat, wind, and dust but no snow and no subzero temperatures and humidity. Thinking back you may think was that a good idea going from one extreme to another (Yep NO Snow) well almost no snow.
Okay let's get back to the reason you're at this web site for fabric. Pam has always sewn, and from high school economics she learned to make jackets, blouses and shirts etc. In the mid 1970's she started quilting the time honored patterns with earth tones and pastel colors and of course all hand quilted. The move from Omaha to Ashland Nebraska 1981 gave her the atmosphere to quilt more and to expand her horizons the smaller towns and the church groups let you see things more clearly so on she quilted. The move to Las Vegas Nevada 1986 gave her more time for quilting a new look on life, she joined the Desert quilters and made new friends and visited many fabric shops in California.
How did we get from time honored to where we are today? Simple I (Tom) who new nothing about quilting at that time said why don't you try this? Change that? Pam was already starting to use bright colors for contrast and values said NO. I said why? She finally put the corners in the quilt I liked, it looked cool and from that time she has been thinking out of the box, the move from Nebraska to Nevada finished the transformation.
Bright colors and altering patterns, changing the look of the quilts by use of color has made perfect sense for the store she is presenting with the online sales and vending at quilt shows. A Bali panel, Batiks and bright 100% cotton fabrics from our manufactures has enabled Pam to bring to life kits that have vibrant colors, and /or beautiful textured black and white fabric.
The hand dyed fabric that we sell is prepared by Pam this is one of the ways she expresses herself, the enjoyment of dyeing fabric and the stress relief that comes from dyeing your own fabric is better then any recommendation your doctor can do for you. Pam also teaches the art of dyeing to students of all ages; check out the calendar of events and schedule of classes on the web site.
Pam continues to look for bright, bold, fabric with texture and unique designs not only for herself but for her customers as well. Pam is a member of Las Vegas Quilters and has attended Road to California since the 1990's
Tom Keenan
Tom Keenan was born in Omaha, Nebraska graduated from Harry A. Burke high school and was marry in 1970. We have two boys Todd and Trent if you have read from Pam's Bio we have been together a long time… that's OK it's not the destination it's the adventure
This is my side of the story in high school I enrolled in all of the art form and wood shop classes I could have (little did I know I needed to spell and write when I was older) I was going to be an artist. After Graduation I attended Art School things went well until I married we had children now no time for school and the words (starving artist) is true so I worked in the family rental equipment business. 1975 Pam and I bought a small grocery store now I had a little art work and little wood working mostly repair work not much fun but it paid the bills In 1981 we sold the store and move to Ashland I went to work for Saunders Co. highway dept. they found out I could paint and soon I was lettering signs for the highway dept. now I was working and painting, carving wood and hand lettering signs on the side (this is why I needed to learn to spell and write) my teachers were right after all. The boys and I moved to Las Vegas after selling the house worked in city government and still painted signs (Rembrandt in a day) not bad.
Art work, wood work hot air balloons, did I mention cars lots of old cars and learning about quilting and helping to raise two boys. During the next ten years I watched and was taught about fabric painting, quilting and fabric when you combine all of these design elements together along with the trend of fabric art I new I found a nitch I liked and was working with my wife. She was happy most of the time unless I would screw up something she was working on. In 2005 I purchased an APQS millennium quilting machine. I have machine quilted, thread painted and finished quilts using these techniques on my wall hangings Pam's quilts and customers quilts (see gallery) as you look through our web site or visit us at a quilt show I hope we can assist you with your quilting needs.
Please check out our stores on Etsy called LasVegasFabrics and a lot of our fabric is on our Amazon store Pocket Change Fabric. Please feel free to call us if you have any questions 702-303-4923. Thank you and Happy Sewing!